Frequently when working in Final Cut, I need to find the source of a clip. The most obvious way to do this is to right-click on the clip and select Reveal in Finder.




But I'd prefer to use a faster method, specifically a keyboard shortcut key.
To find a function's shortcut, enter a keyword into the Help>Search field window. You'll see all of the menu items that contain the word 'reveal.' Use the down arrow key to select Reveal in Finder.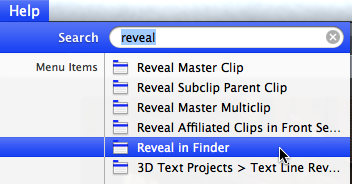 A large blue arrow points to the item under the View menu.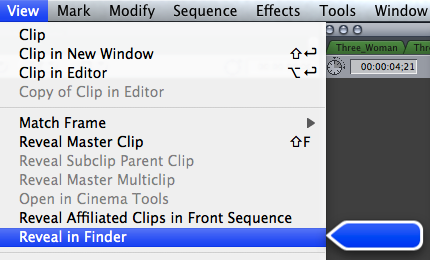 Notice that there's no shortcut key to the right of the menu. This indicates that Apple has not assigned a default keystroke to this task.
Not to worry. Final Cut provides a straightforward method for customizing your keyboard with new shortcut keys.
Choose Tools>Keyboard Layout>Customize or Option-H.
Final Cut launches the default keyboard layout window.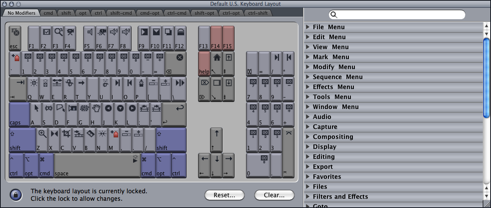 This tool illustrates each of Final Cut's shortcut keys with an icon on the respective key. Note the tabs on top for modifier keys (command, option, control, etc.).

To the right of the default keyboard layout window is a series of expandable menus. Each contains a Final Cut function, an icon, and for some, a keyboard shortcut.

In the search box above this menu, type 'reveal,' You'll see a number of results. At the bottom of the list is Reveal in Finder.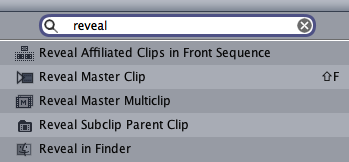 To create a custom shortcut, you'll need to drag the function onto the keyboard. First though, click the lock at the lower left of the window in order to amend the default settings.

In most cases, you'll want to add the function to an unused key combination. In my example, I wanted to include the F key, as Reveal in Finder is a form of 'find.'
Sorting through the tab, you'll see that in the control-option pane the F key is empty.

Simply drag the function from the left side of the keyboard layout window onto the right-side key.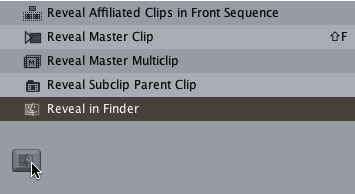 Place the icon on the F key.

Lock the window again, and you're good to go.
Now, when I want to find out the source location of a video or photograph, I just select the clip then use the custom keystroke control-option-F, and a Finder window will open, revealing the file.
The same workflow can be used for just about any Final Cut function that doesn't use a default keystroke.
Tell us your favorite custom keystrokes in the comments.
Learn more about our approach to producing multimedia by purchasing MediaStorm's Post-production Workflow. Spanning more than 200 steps, the workflow covers every phase of editing, from organizing and editing assets in Final Cut Pro 7 through backing up and archiving your project. The workflow includes exclusive access to our Aperture Workflow and our Final Cut Asset Parser. Learn more about MediaStorm's Post-production Workflow.