The Griffin Museum of Photography announced the recipients of its tenth annual Focus Awards.
"This year's Focus awardees are a combination of local and international photography trendsetters and innovators. The Focus Awards recognize the hard work, dedication and enthusiasm of a select group of enthusiastic, creative individuals and organizations dedicated to the art and business of photography," says Paula Tognarelli, executive director of the Griffin Museum.
This year's Focus Award recipients are:
Lifetime Achievement – Karen Sinsheimer
Rising Star – Kat Kiernan
Spotlight – MediaStorm
The Lifetime Achievement Award is given to an individual whose ongoing commitment to photography has created far reaching impact; the Rising Star Award reflects an emerging force the photographic community is watching with great enthusiasm; the Scribe Award recognizes an individual for excellence in writing on the subject of photographic arts and the Spotlight Award is given to an entity that consistently shines a light on photography resulting in an extensive influence in the field.
For more information, visit the Griffin Museum.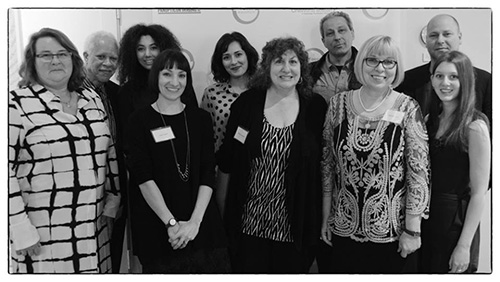 Left to right: Crista Dix, Lou Jones, Delphine Sims, Lisa Volpe, Frances Jakubek, Paula Tognarelli, Ed Kashi, Debbie Hagan, Kat Kiernan and Brian Storm