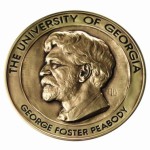 The George Foster Peabody Awards' 73rd annual search for excellence in electronic media, including radio, television and cable, has begun. The entry deadline is Wednesday, January 15, 2014.
Submission Details
The competition is open to entries produced for alternative means of electronic distribution, including corporate video, educational media, home-video release, World Wide Web and CD-ROM. Programs produced and intended for general theatrical motion picture release are not eligible for a Peabody Award.
All program entries must be for programs originally broadcast, cablecast or released for non-broadcast distribution during the 2013 calendar year (January 1 – December 31, 2013).
An entry fee of $175 in U.S. currency for radio entries or $300 for television and Web entries must accompany each entry. Combined radio, television and Web entries should include the $300 entry fee.
Entry form is available online.
For more information visit www.peabodyawards.com.
About Peabody Awards
First presented in 1941, the George Foster Peabody Awards recognize distinguished achievement and meritorious service by broadcasters, cable and Webcasters, producing organizations, and individuals. The awards program is administered by the Grady College of Journalism and Mass Communication at the University of Georgia. Selection is made each spring by the Peabody Board, a 16-member panel of distinguished academics, television critics, industry practitioners and experts in culture and the arts.