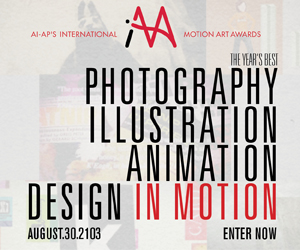 American Illustration-American Photography (AI-AP), the leading juried annuals in North America, presents the second International Motion Art Awards (IMAA) celebrating photographers, illustrators and designers who make their work move in all media.
Entries of the year's best photography, illustration, animation and design in motion can be submitted for award consideration through August 30, 2013.
Submission Details
Eligibility Dates: All work created or broadcast within the 15-month period from January 1, 2102 through June 30, 2013.
Entry Fees: $25 – all self-initiated, unpublished, personal work in any category; $75 – all commissioned and commercially produced projects in any category; $10 – all work created by a full- or part-time undergrad and graduate students.
Jury: An independent jury will view all work submitted in every category and select the winning collection.
Winners: Presented in New York at AI-AP's BIG TALK Symposium in November and will be shown at The Party celebrating the launch of American Photography 29 and American Illustration 32.
Online submissions are accepted at the AI-AP website.
About IMAA
In recognizing the author's "eye" and "hand" as paramount to the creative process,
the IMAAs pay tribute to the best motion art from the year and offer a unique opportunity to the winners and their collaborators for visibility, promotion and bragging rights within the industry.
Submissions are accepted as either commercially produced or unpublished projects in 16 categories as Photography/live action; Illustration/animation; or Motion Graphics and open to all photographers, illustrators, animators, fine artists, art directors, designers, agencies, animation and film studios, producers, directors, educators and students.
Learn more at http://www.ai-ap.com/cfe/motion/.