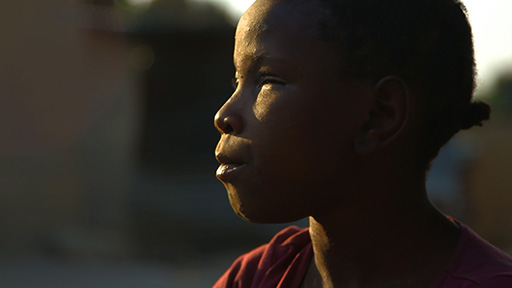 Last year we premiered Surviving the Peace: Angola, a short film that gives a personal representation of the amazing work MAG (Mines Advisory Group) does to remove landmines, bombs and other weapons from post-conflict countries. More than six months after the film's release, its youngest participant continues to make a huge impact.
Minga, only eight years old at the time of filming, recounts the day she found the landmine that blew off her arm and left her blind. The production team and viewers alike have been moved by her bravery and tenacity. We received this note from Lauren of Brooklyn, New York just last week:
…This morning I was still thinking about Surviving the Peace: Angola, and most specifically, Minga. The film and her story touched my heart so deeply and I can't reconcile *not* doing something. I watched her sweet hand reaching for her Grandmother and noted how she stood so patiently near as she swept. Something about her stayed with me. When her Grandmother said she was "born alone, so alone" all I wanted to do was get on a plane and bring both of them–anything, everything. I wanted to tell her that I heard her, felt her pain and struggle and would do anything to help her and beautiful Minga. I wanted to scoop up Minga and give her whatever medical care she needs. I wanted to put her in a mentoring program with other seeing impaired people and offer her a rich community of resources. I wanted to tell her how pretty and special she is and what a healing presence she will be for many. I wanted to hold that wretched pain away from her heart, if only for a day. I wanted to build her a prosthetic arm and give her audio books to last a lifetime. I wanted—and want—to do all of these things. Something.
The good people at MAG have answered this call. The organization has identified a school where Minga, and six other visually impaired children, can get the skills and support they need to change their lives. The annual costs for this amazing program are miniscule.
Stationary – $100 USD
School Bags – $20 USD
Clothes – $150 USD
Transportation – $900 USD
Total – $1,170 USD
Tim McLaughlin, the producer of the film, and his wife, along with Directors of Photography Rick Gershon and Nathan Golon have made a five-year commitment to sponsor Minga's education and we hope that you will join them.
To donate, click here, and be sure to mention " For Minga" in the comments box.
We are often asked what ours films accomplish, and why they should be made. Lauren's letter is why. Our films move viewers to action.
If you haven't heard Minga's story, you can watch Surviving the Peace below. If the film, or any of our work, drives you to take action, do not hesitate to reach out to us.
As Tim says, "It's hard sometimes, you put your work out into a void and you never know if anything good happens from it. It's so reaffirming to know – even if Lauren is the only person who ever helps Minga, that what she gives will go a long way. A little bit of impact makes a huge difference. It makes you feel like your work has a purpose."