Do you know Tim McLaughlin?
If you do, then you know he's a gem. Not only is he a seriously genuine person–one of the finest–he's also a tremendous editor. Go watch Surviving the Peace: Angola, a project he produced with gorgeous footage from Rick Gershon.
It's hardly a secret around the office that I have a 5-lb.-gummy-bear-sized man-crush on Tim. What I love about our relationship, besides his immense patience for my shenanigans, is his almost incessant drive to improve his skills.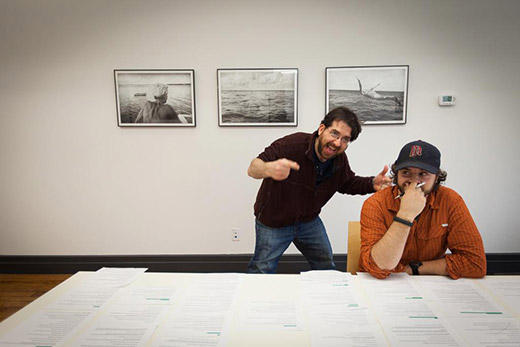 Tim's desire to be better is palpable. And it's infectious.
I can't tell you how many times I've meandered into his room feeling self-satisfied with my own work only to be floored by some sleight-of-hand he's conjured up. Inevitably, such moments send me back to my desk, convinced I can do better.
In moments of fancy, I imagine us as something akin to K.K. Downing and Glenn Tipton, the fierce dueling guitarists of Judas Priest. Their competition helped each other only become better musicians, but more importantly, it made the band better too. Yeah, I know, it's a bit hyperbolic to compare yourself to a famous heavy metal group. But if you can't be wildly passionate about your friends and your art, what else are you going to get excited about?
Something I know for sure is this: When you are young or just beginning to wrestle with your craft, the help of a mentor is invaluable beyond measure. And when you are older and have started to make your way, the trust, companionship, and advice of a fellow practitioner is something rare and special.
Tim and I are teaching an editing workshop September 7, and I could not be more excited. There's lots of good stuff we'll cover. You can read all about about it here. But I want you to know this: It's going to be amazing, because I love editing and I love Tim McLaughlin.
There, I said it.