This article is part of a new series of posts with tips and tricks from our producers' experience working with Adobe Premiere Pro after years of working in Final Cut Pro. To read more about why we made the switch, check out this post.
Today's post was written by MediaStorm producer Eric Maierson.
---
Like Final Cut Pro, Premiere Pro offers an auto-save vault. The functionality is similar. Premiere incrementally saves a backup of your project at a user-specified interval.
To customize this feature on your Mac choose the menu Premiere Pro > Preferences > Auto Save.
There are three options in this menu:
A checkbox to enable the feature, plus two options boxes. One tells Premiere how often to backup and the other designates the maximum number of versions that will be saved before the application begins to delete the oldest ones.
I like to save every 10 minutes. That's about as much work as I can tolerate to lose.
I save a maximum of 40 project versions.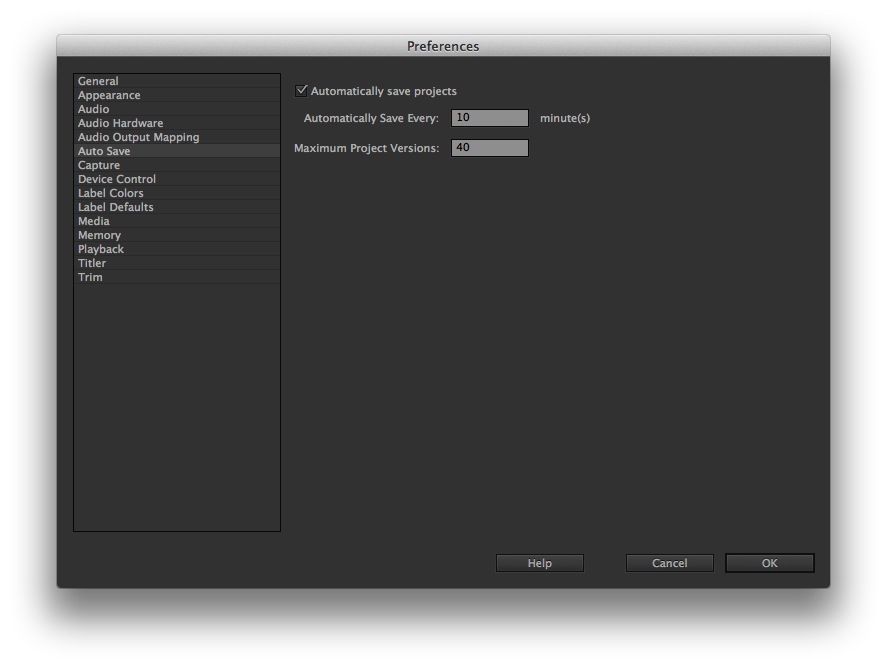 The challenge with Premiere's vault, however, is that it saves backup files to the same directory as your original project file. Ideally, the backups should save to a different drive so that in case of catastrophic failure, you still have a blueprint from which to rebuild your work.
The solution is Noodlesoft's $25 application Hazel. Hazel is a file automation tool that is among my must-have apps. Noodlesoft describes it this way: "Hazel watches whatever folders you tell it to, automatically organizing your files according to the rules you create."
To create an autosave vault on a different drive, first open Hazel.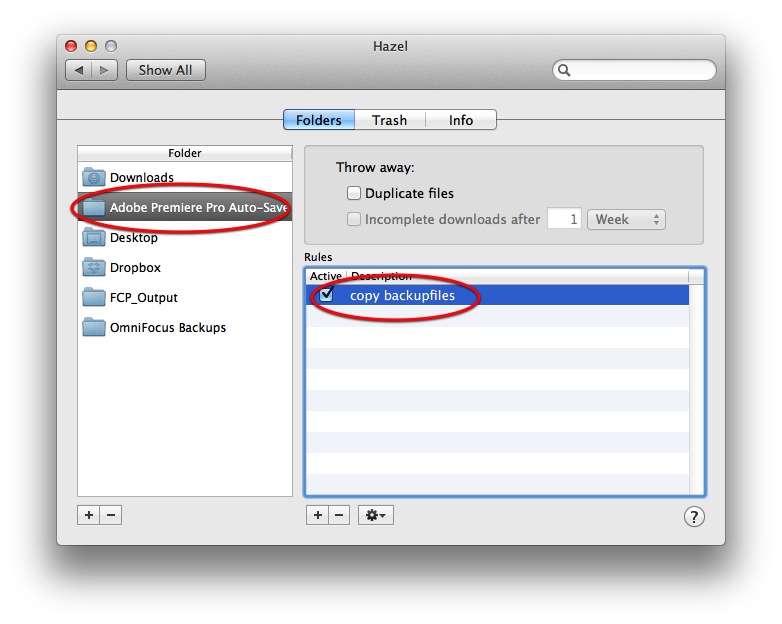 Next, click the plus button, on the bottom left side, under the Folder section.
Navigate to the Premiere Pro auto-save vault. (In the same directory as your project file.)
Then, in the right column, below Rules, click the plus button to create a new rule.

In the Description field name the rule copy autosave vault.
Then add the following conditions:
If the extension ends with prproj (Premiere's file extension), copy the file to a directory of your choosing on another hard drive.
It's an additional step in setting up each new project, but one that's well worth it for the peace of mind it offers.
---
To learn more about how our producers are using Adobe Premiere Pro see our other blog posts on the topic. Also, follow our producers' twitter feed @PrProShortcuts for Premiere shortcuts.
To learn more about our production style, you can purchase a copy of our Post-production Workflow. Readers who purchase our current Final Cut Pro and Aperture workflow automatically receive the Premiere workflow when it is released.
MediaStorm offers several online and in-person training opportunities at mediastorm.com/train.
Have you made a recent switch in your editing software? Let us know about it in the comments below.