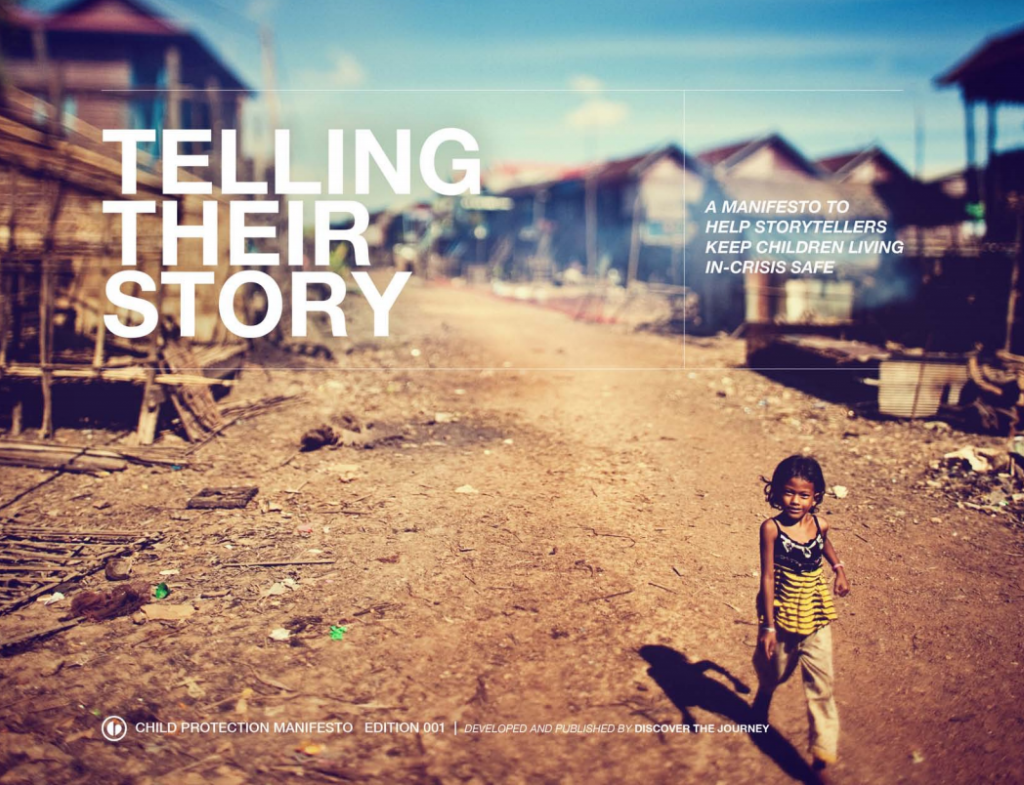 Our work often involves reporting on children and at times in conflict zones or areas when a child's safety or integrity may be compromised. In a recent review of our parental release we came across a helpful resource from Discover the Journey (DTJ) for storytellers working with children.
The Child Protection Manifesto from DTJ explores policies and best practices that inform how and why to tell stories about children at risk, based on thousands of hours spent listening to children around the world. In addition to adhering to UNICEF's "Principles for Ethical Reporting on Children," the Child Protection Manifesto explains DTJ's philosophy and outlines specific guidelines for media usage and media gathering.
The following guidelines are taken from the Child Protection Manifesto, Edition 001:
Media Usage
We do not use any images/video that are exploitative of the child.
More specifically we will not use photos of inflated suffering. So often these are misrepresentations of a fuller reality.
We use accurate names and locations for all stories unless an individuals name or location should be changed or remain undisclosed in order to protect them.
We do not use photography/video of unrelated community members or nations when visually representing an organization's work, but only of direct beneficiaries.
We do not edit images to the extent that they are representing something other than the original intent (as to be determined by both photographer and editor).
We do not exaggerate or embellish.
We are accurate and true – we are truth-tellers who adhere to journalistic principles of balance, fairness, objectivity and truth.
We always cite our sources and double and triple check all statistics for accuracy (we do not oversensationalize or necessarily choose the highest statistic for shock value. We choose the most accurate, well-researched statistics.)
Media Gathering
The process of photo/video/writing gathering is a gift. A bridge of trust is built and we are able to walk away bearing a bit of that child's life and story. We never take what is not offered. We maintain trust.
We respect cultural, religious, community and national customs.
We always ask permission before taking a child's photograph, explaining to them who we are and how their image will be used. If they are too young to comprehend permission, we ask a caretaker or parent. Regardless, we get a written minor consent form signed from their legal guardian when possible.
We always write down a child's name and location and cite them appropriately in the article/magazine/website.
We artistically capture beauty as well as pain in continually dynamic, creative fashions.
We do not stage "scenes" for effect. We capture real life as it really happens.
We listen intently to what is being told to us. Make eye contact when culturally appropriate and ask questions more as in a conversation than an interview.
Distribution
Media will not be distributed in a manner in which it would be made accessible to those who could harm the child. In order to prevent secondary revictimization, it is assumed that in today's globalized and connected world, perpetrators, oppressors, governments and armed groups can access the media from wherever they are. The child's protection remains paramount.
About Discover the Journey
Discover the Journey (DTJ) is a team of journalists and storytellers who expose injustices facing children in crisis and advocate for intervention partners until change is realized. DTJ filmmakers, writers, photographers, artists, and designers have travelled to over 50 nations, committed to exposing injustices children face. DTJ intervenes directly in select situations and provides direct care occasionally, but relies on partnerships with viable and effective NGOs and organizations found within communities to channel human and financial resources to impact people facing injustice.
Learn more and download the Child Protection Manifesto at www.discoverthejourney.org/.