Last week, I traveled to Norway to discuss the MediaStorm workflow and methodology. Here's what I brought:
BAGS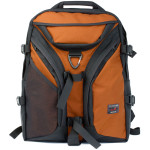 Tom Bihn Brain Bag – A really large and comfortable backpack with two main compartments and lots of outside room. I love this bag and can't say enough good things about it.
Vertical Freudian Slip – This is an insert for the Tom Bihn bag that has 12 pockets and compartments. Great for cables.
Cargo Works 11″ MacBook Air + iPad Sleeve – A small pouch that snugly holds my Air and iPad inside the Tom Bihn and keeps them from rattling around.
HARDWARE
11'' MacBook Air – My Air is the second generation so it lacks USB 3 and thunderbolt connectivity. Still, the size is perfect for traveling.
iPad Air – I don't really need to bring an iPad, but what the hell, the screen is great for watching movies on the plane or in the hotel.
G-Technology Portable Drive – I feel safer traveling with a backup of my Keynote presentations and G-Tech makes durable, reliable drives.
mophine Juice Pack Powerstation Duo External Battery – External battery power to recharge an iPhone or iPad up to four times.
ACCESSORIES
AC adapter – If you travel to an array of countries, consider the Apple World Travel Adapter Kit. If you're only going to Europe, you can pick up an adapter for a few dollars at a hardware store. Just make sure it fits in to recessed outlets.
Apple EarPods (2)– I always bring an extra pair, just in case.
Apple 5W USB Power Adapter – Plug your USB-chargeable devices into an outlet. All iPads and iPhones come with one as well as a lightning to USB cable.
Pen and Notebook – Sometimes analog is all you need.
Radtech ScreenSavrz – Store this piece of felt between your keyboard and screen and you'll save your screen from damaging imprints.
Mini DisplayPort to VGA Adapter – Connects your Mac to most modern overhead projectors. I also bring along the Mini DisplayPort to DVI Adapter to be on the safe side.
Kensington Wireless Presenter with Laser – I like to walk around when I present and I like the feel of the Kensington remote.
Got a secret stowed away in your travel bag? Let us know in the comments below.