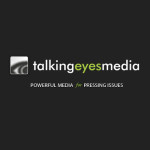 Talking Eyes Media is seeking an Associate Producer to work out of their Montclair, NJ office. Start date is mid-May 2014.
Job Details
The candidate should be a self-motivated individual with an interest in documentary film production and at least three years of experience. The production company is seeking someone with a high level of organizational, communication, and production management skills. This position will begin as a part-time position starting mid-May and may grow into a full-time position by September.
Position Responsibilities
The Associate Producer at Talking Eyes Media will support the production team throughout every aspect of project development (from pre-production through post-production and final delivery). In addition to providing creative and production support, this role is primarily responsible for operational and administrative support. The ideal candidate will have an understanding of documentary projects and storytelling across all platforms, strong research skills, and outstanding communications skills. This position will not require field producing, filming, or editing. Responsibilities include:
Work closely with producer/director and team members to successfully complete projects on time and within budget
Research topics, story ideas, and content to identify possible production opportunities. Contact potential subjects and experts to conduct pre-interviews as needed.
Build and manage all production schedules
Perform grant and funder research for projects
Assist with grant applications
Manage and craft film festival submissions
Provide additional office and production support as needed
Craft and manage content for website, blog, social media networks (Facebook and Twitter), and digital channels (YouTube and Vimeo)
Write newsletters, project announcements and blog posts
More information available on Talking Eyes Media career page.
Apply
Please e-mail cover letter and resume to Julie Winokur at jwinokur@talkingeyesmedia.org with "Associate Producer" as the subject line.
About Talking Eyes Media
Talking Eyes Media (TEM), is a nonprofit production company that creates powerful media for pressing issues. They are visual storytellers, creating documentary films, multimedia, books and exhibitions that actively stimulate dialogue and advocate for positive social change.