Last week I started a project that incorporates previously produced material. The client stores this footage on YouTube and Vimeo. Once I've selected the clips I'd like to use, they will send me the Final Cut Projects and raw assets so I can use their material accordingly.
But it takes time to procure these files and as always, the clock is ticking. You've probably been in this situation yourself.
Rather than screen-capture the files with QuickTime or iShowU, my workaround is to download directly from the aforementioned sites. This is far faster as I don't need to rerecord in real time.
I use the free service keepvid.com which allows the user to download videos directly from sites like YouTube and Vimeo. This works via a bookmarklet—a few lines of javascript—that sit on your browser's bookmark bar.
To begin, load keepvid.com in your browser. 

Drag the box that says KEEPVID Bookmarklet to your bookmark bar. It will appear with name Keep It!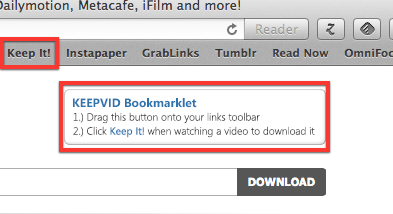 Next, you'll need to find your video on the YouTube or Vimeo domain. This service does not work with embeds. It also seems to not work with private Vimeo files either.
Once you've found your material, click the bookmarklet. You'll be taken to a page that looks something like this:

To download your file, simply click on the left-side link for the largest file available. The right side images are actually ads. You can ignore them.
I then edit with these low-res versions until I receive the client's original assets.
CAVEATS
Keepvid works about 90% of the time. Sometimes a video, for whatever reason, is unavailable with this method. In these cases I will use a screen-capture tool.
On occasion I've also found that the service suddenly stops working altogether. When this happens I delete the bookmarklet and then drag it on the bar again fresh. My hunch is that Keepvid ocassionaly updates their code.
Finally, please use this tool responsibly. Download only what you have express permission to use. If you are looking for public domain archive material try the wonderful archive.org. You'll find lots of free and fantastic movies there.
For a further discussion on copyright laws and fair use, check out Duke University's excellent and free, comic Tales from the Public Domain: BOUND BY LAW? which was written with documentary filmmakers in mind.