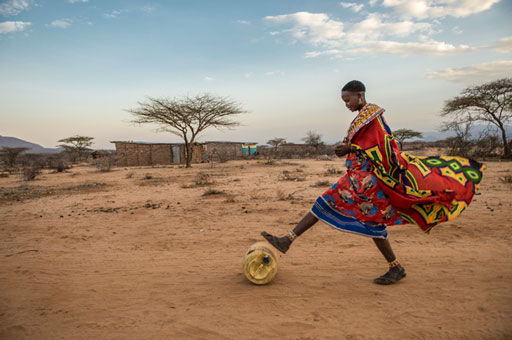 Photographer and filmmaker Ami Vitale's work has taken her to over 85 countries. Her stories tell of the endurance of the human spirit and nature in the face of overwhelming odds. For her next project, she hopes to combat poaching in Kenya by focusing on the indigenous people of Northern Kenya and their efforts to end poaching on ancestral lands by preserving their traditional way of life and strengthening their communities.
You can contribute to making this project a reality through IndieVoices. 

Background
Commercial poaching organized by sophisticated heavily armed criminal networks and fueled by heavy demand from newly minted millionaires in emerging markets is devastating the African plains. If this activity continues it is entirely possible, even likely, that rhinos, elephants and a host of lesser know plains animals will be functionally extinct in our lifetimes. Much attention has been focused on the plight of wildlife and the conflict between heavily armed poacher and increasingly militarized wildlife rangers. However, the story of indigenous communities caught in the crosshairs of the poaching wars, and who may hold the key to saving Africa's great animals, is largely untold.
The Project
Vitale's stories will focus on the indigenous nomadic communities of Northern Kenya on the front lines of the poaching wars and their efforts to preserve community cohesion, ultimately the best immunization against forces that threaten their wildlife and their way of life.
How to Help
Funds raised from the IndieVoices campaign will fund airfare, communications, translators, as well as lodging, food and medical expenses for the production team while traveling. Donate to the campaign by March 5th, 2014.
More information is available on Communities Combat Poaching in Kenya IndieVoices page.