MediaStorm is proud to announce our newest workshop, Editing Workflows. This one day workshop is a deep dive into the 200-plus step workflow that MediaStorm producers use every day to organize and create our films.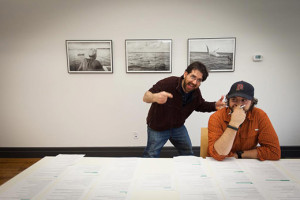 Led by producers Eric Maierson and Tim McLaughlin, participants will learn the keys to organizing and working with large scale projects.
While some editing techniques will be discussed, this workshop is primarily focused on methodology. We'll be sharing the editing workflow we've refined over 7 years to produce more than 200 projects.
This workshop uses Premiere Pro
and Aperture, though the principles apply to Final Cut 7 as well.
Applications are now being accepted online.
Upcoming Dates
Saturday, August 10, 2013 – Apply by July 10, 2013
Saturday, September 7, 2013 – Apply by August 7, 2013
Workshop Details
Tuition for selected participants is $500
Workshops will be held at MediaStorm's office and will start at 10 am and end at 6 pm with an hour for lunch
Attendees are responsible for their own room and board during the workshop.
Topics covered include:
Creating paper and radio cuts
Efficient logging
Techniques for quickly locating b-roll
Syncing two camera interviews
Working with large picture archives
Exporting and encoding
Archiving
Workflow Resources