Today's post was written by MediaStorm producer Eric Maierson. See his other recent tutorials here.
---
I am a slow typer. I dread transcriptions, something we do at MediaStorm for every interview.
Recently I discovered an alternative that's built right into Apple's Mountain Lion operating system: dictation. It's quick, easy and most importantly, pretty darn accurate.
To turn on dictation select the  > System Preferences… then choose Dictation & Speech.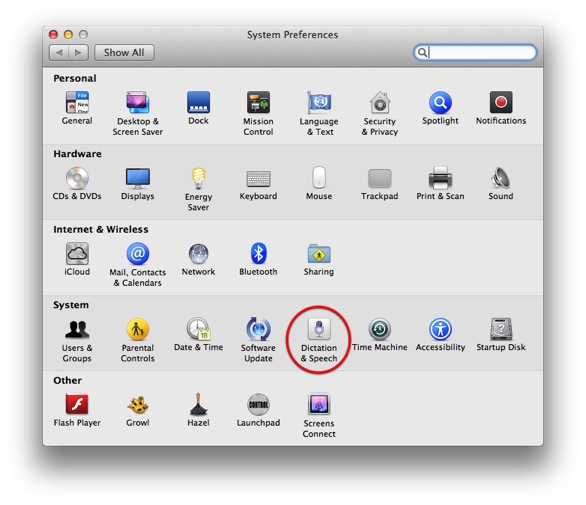 In the Dictation tab click the On radio button.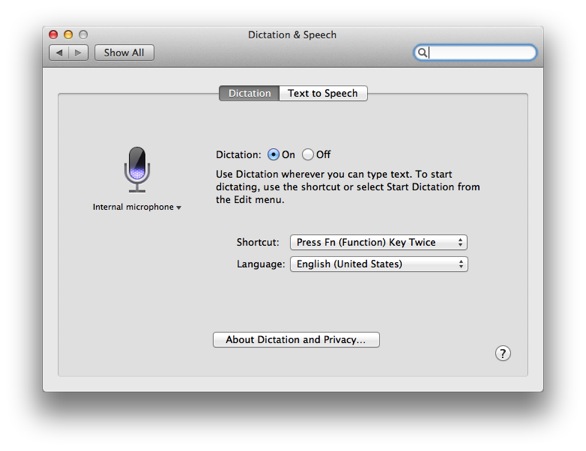 Choose a shortcut key to trigger dictation. I use the suggested fn key on my MacBook Air.
Finally, select your language.
Transcribing
To begin dictation open TextEdit or another text editor. Our application of choice is Barta Technologies' $29.99 Transcrivia. (Built-in dictation does not work with Google Docs.)
Then double click your trigger key. A microphone icon will appear.

Dictate a sentence or two, then press your trigger key once again.
The microphone icon changes to a set of colored circles as the system processes your words. Then, you'll see them appear in your editor.
Caveats
In order to use dictation, you'll need to be connected to the internet. One of the reasons it's accurate is that Apple deciphers your speech on their computers. If you're dictating sensitive material you may want to look for an alternate method.
---
To learn more about our production style, purchase a copy of our Post-production Workflow. Readers who purchase our current Final Cut Pro and Aperture workflow automatically receive the Premiere workflow when it is released.
MediaStorm offers several online and in-person training opportunities at mediastorm.com/train.