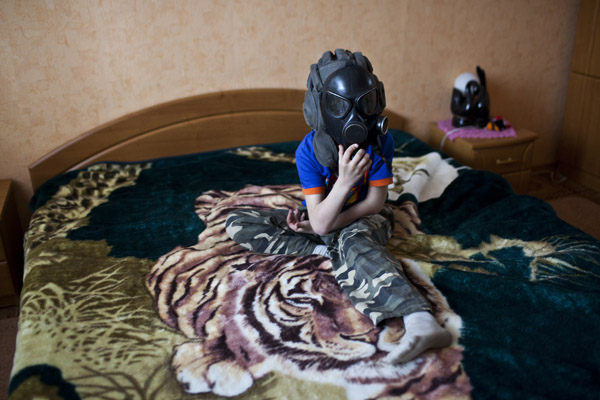 Every storyteller knows that at the heart of a good story is empathy. But getting your interviewee to open up is sometimes easier said than done.
Multimedia journalists Marcus Yam (The Home Front), Maisie Crow (Half-Lives: The Chernobyl Workers Now), and Béatrice de Géa (NYT: When illness makes a spouse a stranger) will discuss the delicate balance of getting intimate with your subject, how to navigate boundaries once you're embedded in someone else's life, and how they go about achieving a deep level of intimacy. Each guest will each present a multimedia story, discuss their processes, and take questions from the audience.
Event Details
GETTING CLOSE: INTIMACY IN MULTIMEDIA
with Marcus Yam, Maisie Crow, and Béatrice de Géa
Saturday, October 27 7:30pm
UNIONDOCS
322 Union Avenue
Brooklyn, NY 11211
Buy Tickets | Suggested donation $9
Event curated by Mooj Zadie and Maisie Crow.
About the Speakers
MARCUS YAM
Marcus Yam (b.1984) is a curious and contemplative photographer living in New York City. Born and raised in Kuala Lumpur, Malaysia, he is culturally and socially gray thanks to an unusual upbringing. In 2006, he left a career in Aerospace Engineering to pursue a photographic life. Marcus is interested in the social issues that shape the American experience: immigration, poverty, citizenship, marginalization, provincialism and faith. He believes photography is a visceral observation to emotional and factual truths that is devoid from any written description. See full bio…
MAISIE CROW
Maisie Crow (1982) grew up in South Texas. She is a photographer and multimedia producer based in Brooklyn, New York. Maisie received her undergraduate degree from the University of Texas at Austin, and attended the Salt Institute for Documentary Studies as well as studied as a graduate student at Ohio University's School of Visual Communication. In 2012, her short film, Half-Lives: The Chernobyl Workers Now, won the Overseas Press Club Award for online video and was recognized by the World Press Photo Multimedia Contest, Pictures of the Year International, Best of Photojournalism and the Lumix Fotofestival. She was also selected as an Honorable Mention for Magenta Flash Forward. See full bio…
BÉATRICE DE GÉA
Béatrice de Géa (1972) was raised in the French Alps and studied art and fashion design at the Chambre Syndicale de Haute Couture Parisienne in Paris, before moving to the United States in 1998. She worked as a staff photographer at the Press-Telegram in California for two years before joining the team of the Los Angeles Times for seven
years. In 2008 she decided to move to New York City to start her freelance career.