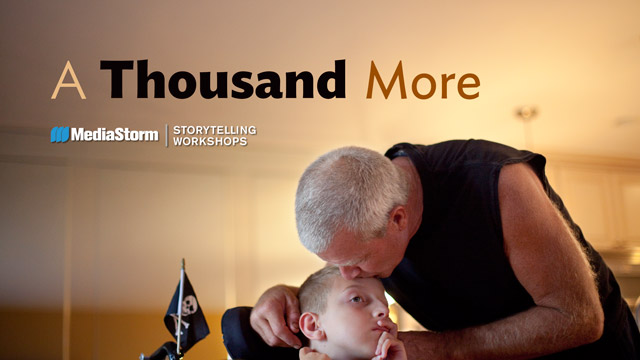 MediaStorm's A Thousand More received an honorable mention in the 2012 competition for the Casey Medal for Meritorious Journalism about the lives of children, youth and families in the U.S.
A Thousand More tells the story of a family determined to give their disabled son a whole and vital life. In the midst of a great burden, one small child – with a seemingly endless supply of love – is the blessing that holds the family together.
The judges honored the film saying, "Produced from start to finish over a single week, this piece is a magnificent, nuanced and soulful story about a family's devotion to their child who is living with a fatal genetic disease. An inspiring and memorable account that gives the viewer the time and space to breathe and think and smile and cry."
The Casey Medals are a project of the Journalism Center on Children and Families at the Philip Merrill College of Journalism, University of Maryland. The Journalism Center on Children and Families received entries from more than 500 reporters, editors, photographers, and producers at 100 news organizations.
Among the winners are NPR, The New York Times, The Philadelphia Inquirer, The Los Angeles Times, The Milwaukee Journal-Sentinel, ABCNews 20/20, WNYC's Radio Rookies, Harper's Magazine and Women's eNews. See the full list of winners and honorees in the official press release.
Congratulations to all the Casey Medal winners and honorees.
A Thousand More is a product of the MediaStorm Storytelling Workshop, where participants work alongside MediaStorm staff to create an intimate, character-driven documentary in just one week. Learn more about upcoming MediaStorm and online training at mediastorm.com/train.